Doctor Housing Bubble

Politicians like to talk about affordable housing but in reality favor policies that keep home prices inflated.  The Federal Reserve has been the most active in suppressing adjustments in the market by keeping mortgage rates artificially low.  Since the public is largely focused on the monthly payment, a lower mortgage rate allows home prices to remain higher than the market is willing to pay.  If you think about the drop in sales and slow decline in prices in spite of all efforts, it boils down to the reality that good jobs are not being added and people cannot afford homes at current levels.  This is clearly the case in California.  Banks have started leaking out shadow inventory to the market but the inventory is so large that it will take years to clear out.  Home prices at their core need to reflect the immediate local area income.  Unlike a stock where being an owner can be global, buying real estate is largely a local matter.  This is why California home prices are still inflated given the state's unemployment and underemployment rate of 23 percent.  Let us look at a few counties and see what portions of their homes with mortgages are underwater.
Negative equity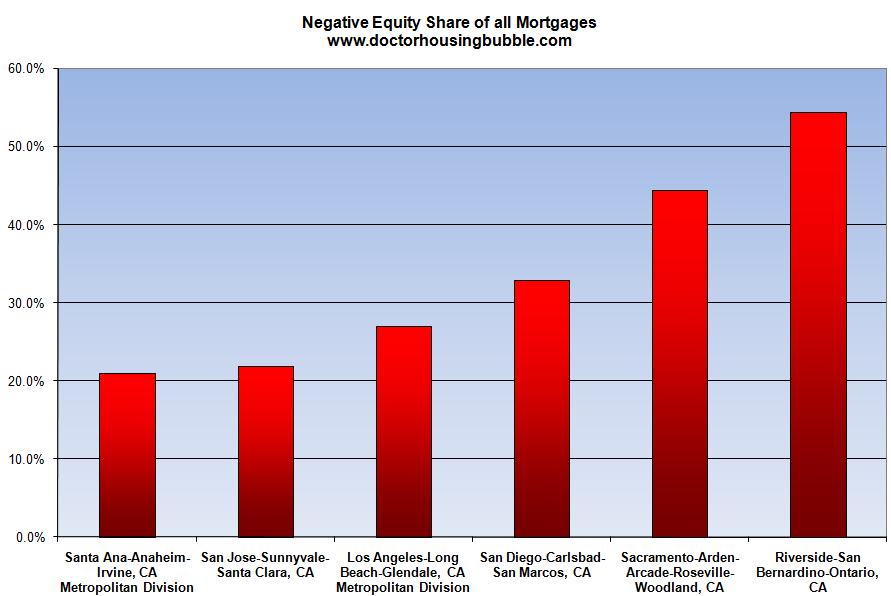 Negative equity is the number one predicting force in future foreclosure.  This is apparent if you think about it since a seller with some equity would merely sell at market rates.  Yet those with negative equity have two options; keep paying on an inflated asset and hope prices go up or stop paying the mortgage.  In most cases the decision to stop paying is largely economic.  That is, these owners simply cannot afford their mortgage anymore.  The bulk of option ARMs are collapsing and working their way through the system.  Over 50 percent of the Inland Empire properties with a mortgage are underwater and nearly one-third of Los Angeles homes are underwater.  With prices starting to move lower yet again, each monthly price drop that we see means the negative equity line draws in more people.
Some areas are still incredibly over priced.  As we know home prices track inflation on a historical level.  Over the last decade California has had 31 percent inflation in their CPI.  Let us look at a few zip codes and see how close they are to this figure:

Each of the above areas is overpriced if we adjust them to inflation.  The Downey and La Verne zip code saw a significant price decline from May to December of last year.  The Santa Monica and Long Beach zip code saw good sized jumps.  The increases occurred in more expensive zip codes but overall is down from the January 2010 price showing that these markets have high volatility based on their inventory.  These zip codes have very large and custom homes that you wouldn't see in an area where homes are all virtually identical.  Even with these slight movements, these markets are still overpriced.
Overall however, prices for all Southern California counties are retreating back to levels not seen in a decade: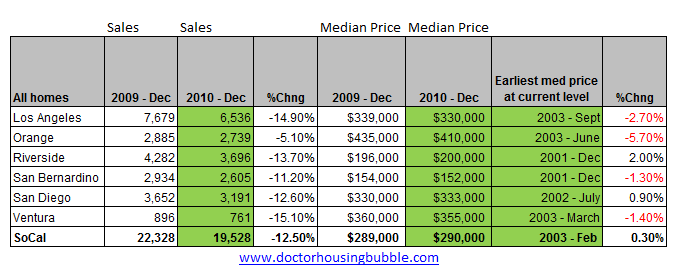 Riverside and San Bernardino prices are now back to levels last seen in 2001.  Los Angeles and Orange County are now back to prices last seen in 2003.  You can see the significant decline in sales which likely leads to future price cuts.